Nethack ascension #6
Chaotic female human monk
Forewords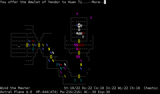 I played this character for ages. First of all, I don't remember if I started the game before I went on my 16-day holiday to China and Japan but even if not, I played this character for two weeks. Last week playing was slow due to need to go to work. :-) But I survived.
Ascension highlights
Started with something like St:15 Dx:14 Co:14 In:10 Wi:12 Ch:8 Chaotic
Finished as St:18/22 Dx:22 Co:18 In:22 Wi:22 Ch:18 Chaotic
Cockatrices are useful. Even with named demons.
Cockatrices are dangerous. Watch out for trolls wielding ones. Fortunately they can be teleported from distance.
Wand of wishing can stir out one more wish if tried hard enough.
Reverse-genociding nurses can improve your max HP by a lot.
Being fast results in only a few WoYs
2200 turns from getting AoY to ascension
End game took only 580 turns(!) of which plane of Water took only 150 turns -- I got lucky, too bad my Archon was left behind.
Random thoughts
This was the first game of Nethack where I realized reverse-genociding can be very profitable. It was also the first game where I used wishes for asking potions of gain level (five potions, four wishes in total, also used three wishes for getting wands of death that I never needed). Also used two wishes for figurine of an Archon. Extremely useful pet in plane of Air. For the first time ever, I wasn't even close to dying -- of course my max HP may have played a role there...

wind, chaotic female human Monk



                                      4
                                   --------- 4
                                   |.'.....|
            -----                  |..%A@..|
             ...|                  |...@...|
     ---------..--   -----         |..A@@V.|
     |.......|...-- --          |  |.....T.|  |
     |.......|%.%.---           |. ----|---- .|
     |..._...-%.%%.- % %        |....55@33....|
     |.......|..[.---%  $       ---...5@....---
     |.......|...-- --   %%       -----|-----
     ---------..--   ----|---         55   --
             ...|      |% %-------      %   -
            -----      |    )%= %|      $
                       -------%"%--     %   -
                             |%   --       -
                             ---%  ----|---
                               |     )  )
                               ------------
Wind the Master                 St:18/22 Dx:22 Co:18 In:22 Wi:22 Ch:18  Chaotic
Astral Plane $:0  HP:444(474) Pw:216(216) AC:-30 Exp:30



You offer the Amulet of Yendor to Huan Ti...--More--
An invisible choir sings, and you are bathed in radiance...--More--
The voice of Huan Ti rings out: "Congratulations, mortal!"--More--
"In return for thy service, I grant thee the gift of Immortality!"--More--
You ascend to the status of Demigoddess...--More--



Do you want your possessions identified? [ynq] (n)


 Amulets
 a - a blessed amulet of reflection (being worn)
 m - a cursed amulet of magical breathing
 W - a blessed amulet of life saving
 Armor
 b - a blessed greased rustproof +4 helm of brilliance (being worn)
 o - a blessed fireproof +5 cloak of magic resistance (being worn)
 w - a blessed fireproof +4 pair of gauntlets of dexterity (being worn)
 R - a blessed fireproof +5 T-shirt (being worn)
 Z - a blessed fireproof +5 pair of speed boots (being worn)
 Spellbooks
 p - the blessed Book of the Dead
 Potions
 y - an uncursed potion of water
 E - 2 blessed potions of extra healing
 G - a blessed potion of full healing
 V - an uncursed potion of sickness
 X - an uncursed potion of healing
 Rings
 e - an uncursed ring of levitation
 g - an uncursed +3 ring of protection (on left hand)
 h - an uncursed ring of slow digestion
 l - a blessed ring of free action (on right hand)
 Wands
 d - a wand of magic missile (0:6)
 B - a cursed wand of teleportation (0:4)
 I - a wand of opening (0:4)
 L - a wand of death (2:2)
 O - a wand of opening (0:7)
 Tools
 k - an uncursed blindfold
 t - a blessed +0 unicorn horn
 x - a blessed bag of holding
 z - a blessed magic lamp (lit)
 A - an uncursed magic lamp
 D - an uncursed skeleton key
 M - the uncursed Candelabrum of Invocation (7 candles attached)
 Q - the blessed Bell of Opening (0:2)
 S - the blessed Eyes of the Overworld
 T - an uncursed magic whistle
 Gems
 K - a blessed luckstone


Contents of the bag of holding:

an uncursed amulet of ESP
an uncursed amulet of life saving
a cursed amulet of life saving
an uncursed amulet of reflection
a cursed amulet of life saving
an uncursed amulet of reflection
an uncursed amulet of life saving
a cursed amulet of reflection
34 blessed +5 shuriken
an uncursed +0 cloak of magic resistance
a blessed partly eaten food ration
11 blessed food rations
2 blessed lembas wafers
an uncursed lizard corpse
a blessed scroll of identify
14 blessed scrolls of blank paper
5 blessed scrolls of charging
3 blessed scrolls of taming
an uncursed scroll of scare monster
3 uncursed scrolls of stinking cloud
2 uncursed scrolls of earth
2 blessed scrolls of remove curse
8 cursed potions of paralysis
5 blessed potions of full healing
10 blessed potions of extra healing
a blessed potion of object detection
14 potions of holy water
an uncursed ring of free action
a cursed ring of free action
an uncursed ring of slow digestion
an uncursed ring of levitation
an uncursed ring of free action
an uncursed ring of conflict
an uncursed ring of free action
a blessed wand of wishing (1:0)
a wand of death (0:3)
a wand of digging (0:8)
a wand of digging (0:8)
a wand of teleportation (0:4)
a wand of fire (0:7)
a blessed wand of death (0:6)
a blessed wand of death (0:7)
a wand of polymorph (1:2)
a wand of lightning (0:8)
a wand of digging (0:7)
a wand of teleportation (0:6)
a blessed wand of striking (0:7)
a wand of sleep (0:5)
a wand of magic missile (0:7)
a blessed wand of fire (0:7)
a cursed wand of cold (0:8)
a blessed magic marker (0:35)
a magic marker (1:50)
a blessed +0 unicorn horn
a +0 unicorn horn
an uncursed jade stone
an uncursed citrine stone
an uncursed amethyst stone
2 uncursed opals
an uncursed aquamarine stone
2 uncursed jacinth stones
an uncursed turquoise stone
an uncursed chrysoberyl stone
an uncursed garnet stone
2 uncursed sapphires
3 uncursed agate stones
8 uncursed jade stones
an uncursed chrysoberyl stone
2 uncursed dilithium crystals
3 uncursed luckstones
8 uncursed amethyst stones
6 uncursed garnet stones
8 uncursed fluorite stones
4 uncursed flint stones
13 uncursed emeralds
6 uncursed citrine stones
a cursed fluorite stone
3 uncursed aquamarine stones
4 uncursed jacinth stones
16 uncursed diamonds
8 uncursed jet stones
2 cursed amber stones
2 cursed luckstones
12 uncursed black opals
12 uncursed sapphires
10 uncursed opals
a blessed luckstone
16 uncursed amber stones
12 uncursed obsidian stones
6 uncursed jasper stones
13 uncursed rubies
2 uncursed topaz stones



Do you want to see your attributes? [ynq] (n)

Final Attributes:

You were the Glory of Arioch.
You were piously aligned.
You were fire resistant.
You were cold resistant.
You were sleep resistant.
You were shock resistant.
You were poison resistant.
You were magic-protected.
You saw invisible.
You were warned.
You had automatic searching.
You were stealthy.
You had teleport control.
You were protected.
You were very fast.
You had reflection.
You had free action.
You were extremely lucky.
You had extra luck.
Good luck did not time out for you.
You survived.



Do you want an account of creatures vanquished? [ynq] (n)

Vanquished creatures:

Asmodeus
Baalzebub
Orcus
Yeenoghu
Juiblex
The Wizard of Yendor (4 times)
Famine
a high priest
Master Kaen
4 mastodons
Medusa
8 krakens
an Archon
10 iron golems
a storm giant
a titan
7 glass golems
5 balrogs
6 purple worms
3 silver dragons
4 red dragons
10 white dragons
an orange dragon
4 black dragons
a blue dragon
2 yellow dragons
21 minotaurs
5 jabberwocks
8 baluchitheria
10 Angels
Vlad the Impaler
6 stone golems
a master mind flayer
19 Olog-hai
8 Nazguls
7 pit fiends
a sandestin
8 hell hounds
22 titanotheres
7 trappers
a baby silver dragon
a baby red dragon
a baby white dragon
a baby orange dragon
a baby black dragon
a baby blue dragon
a guardian naga
4 disenchanters
25 vampire lords
5 skeletons
22 aligned priests
8 captains
5 shades
2 liches
4 clay golems
3 nurses
8 ice devils
3 nalfeshnees
13 lurkers above
3 Aleaxes
2 frost giants
9 ettins
6 golden nagas
5 black puddings
40 vampires
9 lieutenants
38 ghosts
a rogue
2 queen bees
7 winged gargoyles
a mind flayer
16 giant mimics
12 zruties
9 fire giants
2 ogre kings
4 ice trolls
7 rock trolls
10 umber hulks
8 flesh golems
2 Elvenkings
5 doppelgangers
14 hezrous
31 bone devils
12 large mimics
5 wumpuses
11 fire vortices
a baby long worm
9 long worms
5 couatls
24 stalkers
17 air elementals
10 fire elementals
55 earth elementals
21 water elementals
3 hill giants
4 giant mummies
4 black nagas
38 xorns
27 giant zombies
4 elf-lords
20 sergeants
5 barbed devils
20 vrocks
4 salamanders
16 wargs
6 winter wolves
6 hell hound pups
28 small mimics
10 glass piercers
14 warhorses
15 steam vortices
17 xans
9 ettin mummies
2 ogre lords
16 quantum mechanics
30 trolls
a sasquatch
5 wood golems
3 erinyes
5 mariliths
a djinni
4 sharks
6 electric eels
11 gelatinous cubes
3 pyrolisks
6 large dogs
8 freezing spheres
9 flaming spheres
10 shocking spheres
8 large cats
17 tigers
20 gargoyles
3 dwarf kings
8 tengu
12 ochre jellies
14 leocrottas
11 energy vortices
a mountain centaur
9 stone giants
8 elf mummies
6 human mummies
3 green slimes
10 pit vipers
6 pythons
15 cobras
51 wraiths
12 carnivorous apes
26 ettin zombies
5 leather golems
4 Grey-elves
48 soldiers
4 watchmen
7 horned devils
9 succubi
5 incubi
12 chameleons
5 crocodiles
40 giant beetles
9 quivering blobs
28 cockatrices
27 wolves
6 winter wolf cubs
6 lynxes
6 panthers
6 gremlins
6 spotted jellies
49 leprechauns
5 orc-captains
6 iron piercers
5 mumakil
10 giant spiders
9 scorpions
5 horses
3 ice vortices
16 black lights
14 vampire bats
3 forest centaurs
12 gnome kings
6 orc mummies
9 dwarf mummies
6 ogres
7 brown puddings
18 rust monsters
13 owlbears
12 yetis
7 gold golems
3 werewolves
6 Green-elves
2 piranhas
10 giant eels
18 lizards
20 chickatrices
7 dogs
5 dingos
9 jaguars
4 dwarf lords
12 blue jellies
5 white unicorns
8 gray unicorns
10 dust vortices
13 ravens
10 plains centaurs
4 gnome mummies
7 snakes
5 water moccasins
23 apes
35 human zombies
5 rope golems
4 Woodland-elves
36 soldier ants
13 fire ants
7 bugbears
5 lemures
3 quasits
6 wood nymphs
11 water nymphs
6 mountain nymphs
14 Mordor orcs
44 Uruk-hai
5 orc shamans
10 rock piercers
3 rock moles
10 ponies
15 fog clouds
20 yellow lights
6 shriekers
8 violet fungi
28 gnome lords
9 gnomish wizards
8 kobold mummies
2 red naga hatchlings
a black naga hatchling
a guardian naga hatchling
9 gray oozes
6 barrow wights
13 elf zombies
18 ghouls
5 straw golems
2 paper golems
6 jellyfish
a baby crocodile
47 giant ants
a little dog
10 floating eyes
a kitten
23 dwarves
2 homunculi
2 kobold lords
6 kobold shamans
36 hill orcs
27 rothes
2 rabid rats
4 centipedes
4 giant bats
6 monkeys
16 orc zombies
24 dwarf zombies
2 werejackals
9 iguanas
119 killer bees
9 acid blobs
6 coyotes
2 gas spores
7 hobbits
32 manes
3 large kobolds
16 hobgoblins
5 giant rats
4 cave spiders
2 brown molds
4 yellow molds
3 red molds
62 gnomes
21 garter snakes
8 gnome zombies
18 geckos
17 jackals
3 foxes
3 kobolds
5 goblins
6 sewer rats
7 grid bugs
9 bats
5 lichens
14 kobold zombies
13 newts

2966 creatures vanquished.



Do you want a list of species genocided? [ynq] (n)

Genocided species:

hobbits
dwarves
bugbears
dwarf lords
dwarf kings
mind flayers
master mind flayers
liches
demiliches
master liches
arch-liches
green slimes
rust monsters
disenchanters
jellyfish
piranhas
sharks
giant eels
electric eels
krakens

20 species genocided.



Do you want to see your conduct? [ynq] (n)

Voluntary challenges:

You followed a strict vegan diet.
You never hit with a wielded weapon.
You genocided 20 types of monsters.
You never changed form.
You used 14 wishes.
You did not wish for any artifacts.



Goodbye wind the Demigoddess...

You and the guardian Angel of Huan Ti
went to your reward with 4532141 points,
The Book of the Dead (worth 10000 zorkmids and 25000 points)
The Candelabrum of Invocation (worth 5000 zorkmids and 12500 points)
The Bell of Opening (worth 5000 zorkmids and 12500 points)
The Eyes of the Overworld (worth 2500 zorkmids and 6250 points)
      18 amber stones (worth 18000 zorkmids),
      16 diamonds (worth 64000 zorkmids),
      14 sapphires (worth 42000 zorkmids),
      13 rubies (worth 45500 zorkmids),
      13 emeralds (worth 32500 zorkmids),
      12 black opals (worth 30000 zorkmids),
      12 opals (worth 9600 zorkmids),
      12 obsidian stones (worth 2400 zorkmids),
       9 amethyst stones (worth 5400 zorkmids),
       9 fluorite stones (worth 3600 zorkmids),
       9 jade stones (worth 2700 zorkmids),
       8 jet stones (worth 6800 zorkmids),
       7 citrine stones (worth 10500 zorkmids),
       7 garnet stones (worth 4900 zorkmids),
       6 jacinth stones (worth 19500 zorkmids),
       6 jasper stones (worth 3000 zorkmids),
       4 aquamarine stones (worth 6000 zorkmids),
       3 agate stones (worth 600 zorkmids),
       2 dilithium crystals (worth 9000 zorkmids),
       2 topaz stones (worth 1800 zorkmids),
       2 chrysoberyl stones (worth 1400 zorkmids),
       1 turquoise stone (worth 2000 zorkmids),
       5 amulets of life saving (worth 750 zorkmids),
       4 amulets of reflection (worth 600 zorkmids),
       1 amulet of ESP (worth 150 zorkmids),
       1 amulet of magical breathing (worth 150 zorkmids),
and 0 pieces of gold, after 74585 moves.
You were level 30 with a maximum of 474 hit points when you ascended.



You made the top ten list!

 No  Points     Name                                                   Hp [max]
  6    4532141  wind-Mon-Hum-Fem-Cha ascended to demigoddess-hood.    444 [474]