Introduction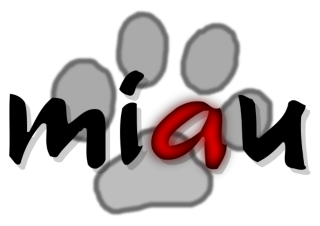 miau is an IRC bouncer/proxy (bnc) written in C for POSIX platforms. It can be used to stay online even when your local IRC client isn't running, using multiple IRC clients (even at the same time), and hiding your personal IP from public.
Features
Lightweight. Happily runs on devices with eight megabytes of RAM. If you don't need certain features, don't compile them in.
Allows multiple clients (with the same nick) at the same time. Stay online at home and at the office with the same nick – and use any IRC client you wish.
Nearly transparent to IRC client. Your IRC client doesn't need to know it's talking with a bouncer instead of real IRC server.
Automatically give channel operator status to the worthy. The operation can be delayed and buffered to minimise flood after and during netsplits.
When you reconnect, miau can replay complete IRC traffic you missed while away.
Requirements
miau compiles on virtually any POSIX platform with an ISO-C compliant C-compiler. There are no dependencies to third-party libraries, so it compiles on even most restricted environments. miau is known to run perfectly fine on wireless routers with eight megabytes of RAM.
Documentation and downloads
SourceForge kindly hosts the official miau website. Documentation and downloads are available there.