Introduction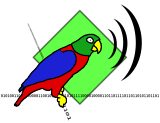 SpeexComm is lightweight VoIP communications project which consists of client engine library and standalone server. SpeexComm provides low-latency, high quality sound using Speex as sound codec. Where available, DCCP can be used as transport protocol to enable automatic bitrate adjustment based on network status.
SpeexComm is dead.
Features
Uses Speex as audio compression codec.
SpeexComm can handle far more clients than the computer running the server. Code limits number of clients to 4300 million.
Separate talk and listening frequencies (channels). Listen to many, talk to one.
Can use UDP, TCP, and DCCP as transport protocol (where available). Take full advantage of DCCP or fall back to using TCP.
Adjustable sound quality/bandwidth tradeoff with Speex.
Automatic bandwidth adjustment with DCCP as transport protocol.
Adjustable sound quality/CPU usage tradeoff with Speex.
Comes with three example user interfaces: GTK+, ncurses, command line. Writing new frontends should be easy.
Requirements
SpeexComm should compile with ISO C99 compliant compiler on POSIX platforms. It only depends on libc and Speex. Actual system requirements (as in CPU performance and memory requirements) are currently unknown. With default settings, running engine consumes virtually no system resources on ordinary desktop computer from 2005.
Documentation and downloads
Documentation is available at SpeexComm wiki.
Downloads are available through anonymous Subversion repository. See trac for further information.
Authors