0 days to go
18 Sep 2009 12:20:37
diary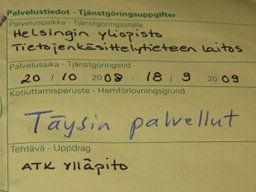 There it is. Fully served, or "täysin palvellut". On 22 September 2008 I begun my non-military service and took a bus to Lapinjärvi training centre. Today, 18 September 2009, 362 after that bus ride, I'm on duty for the very last day.
Read full entry (permalink)
PulseAudio
16 Jul 2009 10:37:37
rant, software
This rant was originally going to be part of previous multi-rant, but it has then grown in size to be fully self-sufficient.
I'm not exactly the biggest fan of PulseAudio and based on my past encounters with it I tend to blame PulseAudio for all audio issues on GNU/Linux until proven otherwise. Take that in account when you read this. Technically I think PulseAudio is neat and it has some ambitious goals but right now it simply doesn't work for me.
Read full entry (permalink)
Miscellaneous rant
16 Jul 2009 09:31:16
diary, rant
Hello, my nick is wnd, and I'm an addict
27 May 2009 11:29:24
diary
I like chip music.
Hello, my nick is wnd, and I'm an addict. I started regular use around six years ago and since then it has only got worse. At first I used maybe once a week, but since then once a week has become a few times a week, then once a day, and now it's several times a day. I don't know how to stop anymore.
Read full entry (permalink)
How I dropped my Nokia N810 into the sea and (probably) got away with it
24 May 2009 20:10:22
diary, hardware, maemo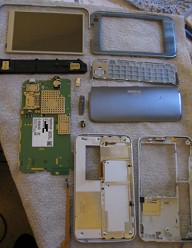 Two days ago I was Geocaching at eastern Helsinki (Vuosaari). I took a metro there and continued my way with my bike. The weather was perfect, the park there was nice and all that. Later that day when I realised it was a bit late and my significant other was probably expecting me to come home, I had just two more caches left on my primary list. I decided to take care of those. The second last was supposedly located on the side of a breakwater. You know, one of those built of rocks with gentle slope down to the sea. Obviously I got carried away with the hunt and managed to have the device slip out my breast pocket, bounce down the breakwater and drop into the sea.
Read full entry (permalink)
Photos from Lapinjärvi educational centre
18 Mar 2009 21:56:48
photos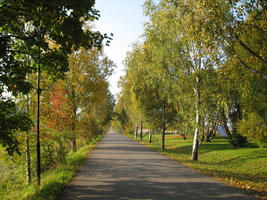 Small photo-set from Lapinjärvi educational centre where my non-military service training took place. It only took me six months to get these online.
(Permalink)
TJ 200
2 Mar 2009 12:59:14
misc
200 days to go. TJ 256 passed without much notice but my fellow servicemen couldn't help but remind me about TJ 200. TJ comes from tänään jäljellä or "days remaining", which is widely used in context of (non-)military service to indicate number of days until some significant date such as relief from duty. Talking of dates, UNIX dates 1234567890 and 1234554321 also passed not long ago.
My work at department of computer science, University of Helsinki, hasn't changed much. I finished instructing a course on database applications in January and now I'm spending all my time in making Cubbli, or Common Ubuntu-based Linux, ready. I can't say I agree with everything they've done in Ubuntu, but luckily under the hood it's only slightly different from Debian.
(Permalink)
Game of Life in 6502/6510 assembler
28 Feb 2009 19:05:04
software