My first helicopter
21 Sep 2007 18:24:38
photos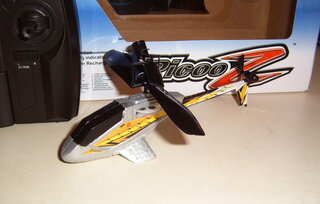 When I first saw one of these remote controlled miniature helicopters on the Internet, I knew I had to get one. I started looking everywhere, but places such as play.com and amazon.co.uk, where the toys were affordable, wouldn't ship electronics to Finland.
Later I somehow managed to convince myself that amazon.de didn't ask too much – around 25 euro plus postage and other handling fees. That's like less than two hours at work… :-)
There is also a new picture of clouds. What is wrong with me?
(Permalink)
DCCP CCID 4 for Linux
21 Sep 2007 14:14:21
network, software
Introducing Woclema, weblogging software for discriminating people
22 Aug 2007 12:42:35
software
Woclema, weblogging software for discriminating people like yourself. A wheel reinvented, an outcome of "not invented here". Welcome to the future.
Read full entry (permalink)
Optimisation with GCC and its impact on performance
22 Aug 2007 10:43:22
software
System tray for non-Gnome/KDE environments
18 Aug 2007 13:57:39
software
Adventure of running a system tray on a setup without actual desktop environment such as KDE, or GNOME. It is doable, but not necessarily a breeze. Give stalonetray a go.
Read full entry (permalink)
fpgg 2007-07-31-r31
31 Jul 2007 08:04:00
software
Browser wars
16 Jul 2007 21:02:50
software
Not all web browsers are created equal. Apart from different user interfaces, they may or may not share a common rendering engine. The engine matters. The engines differ in performance (as in rendering speed, or CPU resources), stadnard compliancy, features (e.g. CSS, JavaScript), and memory usage. This is short, subjective comparison of a few.
Read full entry (permalink)