N810 and built-in e-mail client
11 Jan 2008 12:18:59
maemo
My and my curiosity. Sigh. When I was told the built-in email-client on Nokia 770 was bad, I should have believed them. Instead, I wanted to believe there would have been progress since then, and wanted to experience N810 e-mail client myself. Bad move.
Read full entry (permalink)
My Nokia N810 is finally here!
11 Jan 2008 00:37:39
maemo, misc
Back in November – or maybe it was at the end of October – I decided to participate in Maemo developer program once again. I mean, even though I was turned down before, you never know. In 9 November I got a b0rken email telling me how things went wrong in a PHP-application – and btw you should receive your discount code shortly. Huh, wha– I was accepted? Nice, maybe I could get the device before Christmas. Nope.
Read full entry (permalink)
IPv6, finally without a tunnel!
17 Dec 2007 19:46:26
misc, network
Hooray! IPv6 without a tunnel! SixXS (Six Access) is an outstanding IPv6 tunnel broker with multiple PoPs all around world, including one here in Finland. If your ISP doesn't provide IPv6, I can strongly recommend SixXS. It's been a smooth ride!
However, now that my ISP, Nebula, provides IPv6 connectivity to its more advanced subscribers, I no longer need SixXS. Since it is impossible to get a new account after deleting an old one, I will keep the account in case I have to changes ISP without IPv6 connectivity.
As much as I'm happy to have "real" IPv6 connectivity, I'm not sure if it will change anything for me right now. Sure, I can see animated turtle at http://www.kame.net/ and get shorter route to limited number of hosts but otherwise little has changed. IPv6 will start solving problems only when others start using it too. I took an initiative earlier this year, now it's your turn. Start your browser engines and get your IPv6 tunnel today!
(Permalink)
6th kyu in kendo
14 Dec 2007 20:38:07
misc
After years of hesitation I finally decided to take new path in my life and start a hobby that didn't have computers in it. I signed up for kendo lessons. After three months of practicing twice a week our group reached the graduation day. 6th kyu, nothing more, nothing less.
Read full entry (permalink)
SpeexComm with DCCP
28 Nov 2007 15:43:46
software
SpeexComm (official website) is now one of the first applications to use DCCP as transport protocol and adjust used bandwidth based on feedback from receiver. This means SpeexComm can adjust sound quality based on network status to minimise interrupts in sound transmission.
Read full entry (permalink)
miau 0.6.5
23 Oct 2007 20:13:08
software
miau 0.6.5 is finally out. This release mostly about bugfixes – which is appropriate for application that is supposedly no longer developed. Like I have already said gazillion times, next generation miau is in works. Not that I would expect that to change any time soon…
See SourceForge for downloads.
Read full entry (permalink)
X.org, USB-mouse, udev, and SDL
21 Oct 2007 20:33:21
Linux
Mouse pointer would misbehave in Linux, particularly in some games. Apparently this is an unfortunate outcome of many moving parts. Who thought dealing with a mouse pointer can be this complicated?
Read full entry (permalink)
Switzerland in autumn 2007
5 Oct 2007 09:53:05
photos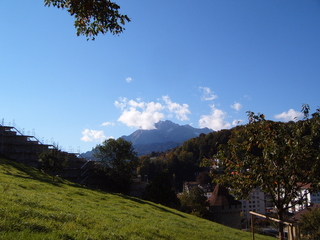 I've been to Swizerland three times before. First when I was 6, then when I was 15, and again when I was 23 or so. I have to admit I don't remember too much about the first two trips, but I do remember that the third one was short. I only had one evening free at Zürich, but it was a business trip after all. This time my wife and I would spend a long weekend at my aunt's place in Luzern (or Lucerne), and briefly stop at Zürich at daytime.
(Permalink)
phx.gbl and Microsoft's search
3 Oct 2007 13:38:39
misc